If you guys are following me on the Instagram, you will definitely know that I am obsessed with Jericho Rosales! *fangirlscream* I love him since Pangako Sayo and Sanay Wala Nang Wakas. But since he came to Sarawak last year, I get to know his girlfriend, Kim Jones. So, I started follow Kim on Instagram, Facebook, Twitter, I even read her blog. I read her previous post on her archive. One word to describe her, WOW
❤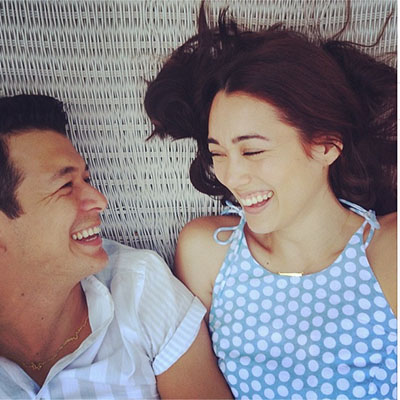 It is such amazing how one person, a totally stranger can give such an inspiration to you in life. I love everything about Kim Jones. How she shoots beautiful pictures with vivid colours, how she impressed me with how she effortless to dress up, how she does her pose, how she being so kind to reply all my comments on social network, how she is so thoughful by selling her clothes for Yolanda victim (though I didn't win it) and the list goes on.
I am maybe a stalker or obsessed with her. I just adore her.
Last week, 1 May 2014 is the new chapter for her and Echo. Finally, the moment that everyone is waiting for has come to the end. Kim and Echo are newlyweds!!!! Yes, they just got married in a beautiful ceremony in Boracay, Philippines.
Or just click #echokimforever on Instagram!
Happy Newlyweds to
Jericho Rosales
&
my girl crush, Kim Jones!